Orange Revolution – Term for the mass protests that followed the rigged presidential run-off elections between Viktor Yanukovych and Viktor Yushchenko in 2004. Though Yanukovych was declared the winner, protests forced the election to be annulled and the run-off was run again, with Yushchenko taking 52% of the vote. The Revolution took its name from the color worn by Yushchenko's supporters.
In the Ukrainian 2004 presidential election in sitting Prime Minister Viktor Yanukovych was largely supported by Leonid Kuchma (the outgoing President of Ukraine who already served two terms in the office and was precluded from running himself due to the constitutional term limits). The opposition candidate was Viktor Yushchenko, leader of the Our Ukraine faction in the Ukrainian parliament and a former Prime Minister (1999–2001).
The casset scandal was recordings of Ukrainian President Leonid Kuchma  ordering the kidnap of a journalist. It not only undermined the peoples' respect for Kuchma as a president, but also for the elite ruling class in general. Because of Kuchma's scandalous behaviour, he lost many of his supporters with high ranking government positions. Many of the government officials who were on his side went on to fully support the election campaign of Yuschenko and well as his ideas in general. Yushchenko's role had never been more important to the revolution. He was a charismatic candidate who showed no signs of being corrupt. Yuschenko was on the same level as his constituents and presented his ideas in a "non-Soviet" way.
At one point ,an assisnation attempt was made on Victor Yushchenko, who said he was poisoned. Opponents said maybe it was bad sushi and booze. Austrian doctors said it was dioxin — possibly placed deliberately in his food. Arnold Schecter, a dioxin expert at the University of Texas School of Public Health at Southwestern Medical Center in Dallas, said dioxins can be highly effective poison in people who are sensitive to their effects. If Yushchenko was deliberately given dioxin, it was done by someone who "was very clever and very knowledgeable," Schecter said.
That announcement came on Dec. 11, 2004, just a few weeks after Yushchenko was beaten by Yanukovych in a soon-to-be-overturned runoff vote for the Ukrainian presidency. The new vote put Yushchenko in the presidency.
The Ukrainian regime that was in power before the Orange Revolution created a path for a democratic society to emerge. It was based on " that is considered a "hybrid regime", allowing for a democracy and market economy to come to life.
The Yushchenko who campaign publicly called for protest on the dawn of election day, 21 November 2004, when allegations of fraud began to spread in the form of leaflets printed and distributed by the 'Democratic Initiatives' foundation, announcing that Yushchenko had won Beginning on 22 November 2004, massive protestsstarted in cities across Ukraine:the largest, in Kiev's Maidan Nezalezhnosti (Independence Square), participants,peacefully marched in front of the headquarters of the Verkhovna Rada, the Ukrainian parliament, many wearing orange or carrying orange flags, the colour of Yushchenko's campaign coalition. One of the most prominent activists of that time was Paraska Korolyuk.  He subsequently undertook the management of the protests in Kiev until the end of the demonstration.
At the same time, local officials in Eastern and Southern Ukraine, the stronghold of Viktor Yanukovych, started a series of actions alluding to the possibility of the breakup of Ukraine or an extra-constitutional federalisation of the country, should their candidate's claimed victory not be recognised. Demonstrations of public support for Yanukovych were held throughout Eastern Ukraine and some of his supporters arrived in Kiev. In Kiev the pro-Yanukovych demonstrators were far outnumbered by Yushchenko supporters, whose ranks were continuously swelled by new arrivals from many regions of Ukraine. The scale of the demonstrations in Kiev was unprecedented. By many estimates, on some days they drew up to one million people to the streets, in freezing weather.
 Kyiv's central Independence Square.
Klitschko is the only heavyweight world champion to have never been knocked down in any fight. Alongside George Foreman he is the only heavyweight boxer in history to defend a world title after turning 40. Being the first professional boxing world champion to hold a PhD degree, and in reference to his punching power, Klitschko's nickname was "Dr. Ironfist". His younger brother, Wladimir, is also a former heavyweight champion. Vitali and Wladimir dominated heavyweight boxing, a period typically known as the "Klitschko Era" of the division
Viche – Taking its name from traditional councils in medieval times, the term is now used for popular assemblies at protests where various citizens from all walks of life, and political sympathies, are allowed to address to the crowd.
January 23 2005 Viktor Yushchenko is sworn in as president following Supreme Court validation of the final results. He appoints political ally Yulia Tymoshenko as prime minister. Widespread political and economic reforms are announced but the government is sacked by Yushchenko later in the year.
Yulia Tymoshenko with Council of Europe Secretary General Thorbjorn Jagland
March 2006 Parliamentary elections give Yanukovich's Party of the Regions a majority, leading President Yushshenko to appoint his former opponent as prime minister.
September 2007 Yanukovich's party wins the greatest share of votes in parliamentary elections, but alternative opposition figure Yulia Tymoshenko eclipses Viktor Yushchenko. The Orange parties win a narrow majority, forming a coalition government under Tymoshenko's leadership in December.
May 29 2009 The EU announces an ambitious "Eastern Partnership" programme to negotiate deep and comprehensive free trade agreements with Ukraine and five former Soviet republics. The plan aims to build a "sphere of interest" embracing post-Soviet states bordering Russia conditional on legal, economic and political reforms.
February 7 2010 Viktor Yanukovich narrowly defeats prime minister Yulia Tymoshenko in the final round of presidential elections, completing a stunning political comeback. Tymoshenko is also forced out of office as prime minister following her unsuccessful appeal against the result.The presidential election was judged free and fair by observers. His main rival, Prime Minister Yulia Tymoshenko, is arrested for abuse of powers and eventually jailed in
October 2011. As the verdict was read out, Mrs Tymoshenko spoke over the judge, saying she would fight to defend her honest name. She also said she would take the case to the European Court of Human Rights.
March 2012 Senior officials meet in Brussels to initiate the text of an EU-Ukraine Association Agreement. The deal faces lengthy negotiations before it can be completed and EU leaders insist that Tymoshenko be released from prison.
April 8, 2013 Police fired tear gas as protesters tried to break through a cordon around government buildings.Kiev police said they had fired tear gas after protesters threw a smoke grenade at officers in an attempt to break into the Cabinet of Ministers building.
 The scene close to the presidential administration building in Kyiv.
Russia issues a warning
In August, Russia suddenly stopped all Ukrainian imports at the border for stepped-up customs inspections. It lifted the restrictions after a week, but a senior economic aide to President Vladimir V. Putin of Russia said they could become permanent if Ukraine, as expected, signed the agreement with the European Union.
Bill to Free Ex-Prime Minister Is Postponed
In a move that threatened to derail Ukraine's plans to formalize the agreement with the European Union, the country's Parliament postponed consideration of a bill that would free Yulia V. Tymoshenko, the jailed former prime minister.
November 21 2013 Yanukovich announces that he has suspended negotiations with the EU for an association agreement. He claims that the EU needed to offer more to secure Ukraine's economic future. Critics point to external pressure from Russian president Vladimir Putin who has made a number of threats against Ukraine, including hefty tariffs on imports to Russia. Protesters against the decision emerge on Independence Square.
Kiev's Maidan Nezalezhnosti (Independence Square), attracted an estimated 500,000 participants
The election was held in a highly charged atmosphere, with the Yanukovych team and the outgoing president's administration using their control of the government and state apparatus for intimidation of Yushchenko and his supporters. Since no candidate carried more than 50% of the cast ballots, a run-off vote was mandated by Ukrainian law.
Protests began on the eve of the second round of voting, as the official count differed markedly from exit poll results which gave Yushchenko a lead, while official results gave the election win to Yanukovych . While Yanukovych supporters have claimed that Yushchenko's connections to the Ukrainian media explain this disparity, the Yushchenko team publicised evidence of many incidents of electoral fraud in favour of the government-backed Yanukovych, witnessed by many local and foreign observers.
In the November runoff, the East voted for Viktor Yanukovich, a favorite of Moscow. Western Ukraine voted for Viktor Yushchenko, who favors stronger ties with Europe and the rest of the West. Yanukovich, the current president's hand-picked successor, was officially declared the election's winner.
But election observers spotted massive fraud. According to Nelson Ledsky of the National Democratic Institute, observers "reported that the rigged voting was in the neighborhood of over 1 million extra votes." Yushchenko's supporters massed in the streets of Kiev, demanding that the results be annulled. It became orange versus blue, with orange being the color of the media-savvy Yushchenko protesters, blue the color of the pro-Yanukovich government supporters. Apparently, in the post-Soviet era, nobody wants to be red.
The election fraud definitely emphasised the Ukrainian citizens' desire for a more pluralistic type of government.
Ukraine Halts Plans for Deal With E.U.
Under the threat of crippling trade sanctions by Russia, Ukraine announced that it had suspended its plans to sign the agreement with the European Union and that it would instead pursue new partnerships with a competing trade bloc of former Soviet states. European leaders reacted with fury, and several hundred protesters gathered in Independence Square in Kiev. Carrying European flags, they chanted, "Ukraine is Europe!"Nov. 23, 2013
 E.U. Gives Ukraine a Deadline
Several years after Ukraine and the European Union entered into negotiations about a political and trade agreement, Europe offered Ukraine a deadline for meeting its requirements. At a meeting in Brussels, President Viktor F. Yanukovich said he believed that the outstanding issues — a number of justice and electoral matters — could be solved by November.
President Viktor F. Yanukovich  summit meeting :Brussels. Rex Features via AP Images Premier Blames I.M.F. as Protests Grow
President Viktor F. Yanukovich pardoned the country's second-most-prominent political prisoner, Yuri V. Lutsenko, a former interior minister. Although Mr. Yanukovich did not explicitly state any connection to the trade agreement in his pardon, the move came as Europe pushed for the release of political prisoners. Mr. Yanukovich remained silent on his intentions concerning Yulia V. Tymoshenko, his biggest rival, who was arrested in 2011 in what were widely believed to be politically inspired charges.
Prime Minister Azarov The Guardian labelled him the most Russophile member of the new cabinet.
Prime Minister Mykola Azarov of Ukraine told enraged opposition lawmakers that his government's decision to walk away from the far-reaching agreement with the European Union was based on fiscal imperatives and ultimately prompted by the International Monetary Fund's overly harsh terms for an aid package. Protests against the government's decision were held in several Ukrainian cities. Kiev, the capital, was pulsing with emotion that commentators said they had not seen since the Orange Revolution of 2004.
Ms. Tymoshenko issued a statement urging people "to react to this as they would to a coup d'état" and take to the streets.
Nov. 30, 2013 A Violent Confrontation With Police. In the early morning, riot police officers, swinging truncheons and spraying bursts of tear gas, forcibly broke up the crowd in Independence Square, which had been the main protest site for more than a week. Furious over what they said was excessive brutality by the police, thousands more took to the streets to call for Mr. Yanukovich's resignation.
November 30 2013 Protests are cleared from Independence Square by security forces.
Over the last two and half months, hundreds of thousands of Ukrainians have protested the increasingly authoritarian direction of President Viktor Yanukovych's government. At the forefront of Ukrainians' objections to the government are a special police force known as the Berkut, or "Golden Eagle."
December 1 2013  protestors bearing EU and Ukrainian flags come out onto Kiev's streets to protest against the government's security response and to demand greater engagement with Europe. Ukrainian prime minister Mykola Azarov warns that the protests are becoming "uncontrollable" as demonstrators attempt to storm the presidential buildings.
December 2 2013 Ukraine's bond yields soar and the price of insuring against a default on government debt surges as protesters call for revolution. Vladimir Putin condemns the 12-day protests as "a pogrom". Yanukovich makes a televised address appealing for calm and pledges to re-engage with Brussels on the details of the association agreement.
December 3 2013 Deputies present a no-confidence motion in Yanukovich's government as he flies to China to seek a multi-billion dollar loan deal. The motion fails to defeat the government's majority.
Dec. 4, 2013
Mr. Yanukovich, second from left, visited the Qin Shihuang Terracotta Warriors and Horses Museum.
Yanukovich Flies to China
With protesters encamped in Kiev's City Hall and at least two other public buildings in Independence Square, Mr. Yanukovich proceeded with a long-planned state visit to China. He saw the collection of ancient artifacts and toured a factory, among other outings. A deputy prime minister of Ukraine, Yuri Boiko, traveled to Moscow the same day. Ukrainian officials have been looking to Russia and China as potential sources of financing as discussions with the International Monetary Fund over an aid package crumbled.
Protesters Topple Statue of Lenin
Demonstrations erupted into a full-throttle civil uprising, as hundreds of thousands of protesters answered Mr. Yanukovich's dismissiveness with their biggest rally yet. At the height of the unrest, a seething crowd toppled and smashed a statue of Lenin, the most prominent monument to the Communist leader in Kiev. After an electrifying assembly in Independence Square, the huge crowd surged across the capital, erecting barriers to block the streets around the presidential headquarters and pitching huge tents in strategic intersections.
Early December: Protesters occupy Kiev city hall and Independence Square in dramatic style. Some 800,000 people rally in Kiev.
International Concern Grows
Riot police officers and Interior Ministry troops began pushing protesters out of streets near main government buildings, including the presidential headquarters. Ukrainian security forces raided the headquarters of an opposition party, Fatherland, and cut off electricity to the occupied City Hall. International concern over the unrest in Ukraine appeared to deepen as the United Nations secretary general, Ban Ki-moon, telephoned Mr. Yanukovich, and Western leaders continued to call on him to respond to the demonstrators' demands.
 Tens of thousands of demonstrators came out to support Ukraine's President Yanukovich on Saturday.Matthew Orr/The New York Times
December 2013
17 December: Vladimir Putin throws President Yanukovych an economic lifeline, agreeing to buy $15bn of Ukrainian debt and reduce the price of Russian gas supplies by about a third.
January 2014
16-23 January: Parliament passes restrictive anti-protest laws as clashes turn deadly. Protesters begin storming regional government offices in western Ukraine.
28-29 January: Prime Minister Mykola Azarov resigns and parliament annuls the anti-protest law. Parliament passes amnesty bill but opposition rejects conditions.
Image copyrightREUTERSImage captionRiot police and protesters face off in Independence Square
For now, the political negotiations over the sustained opposition to Yanukovych's government has taken a back seat internationally to the unsettling images emerging from the streets of Kiev as protests continue: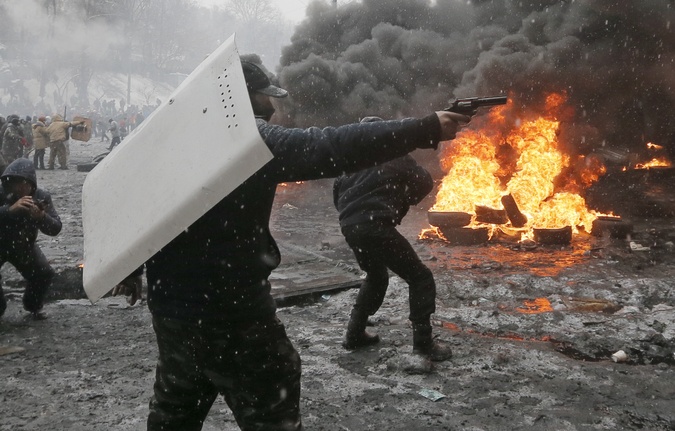 AP
14-16 February: All 234 protesters arrested since December are released. Kiev city hall, occupied since 1 December, is abandoned by demonstrators, along with other public buildings in regions.
20 February: Kiev sees its worst day of violence for almost 70 years. At least 88 people are killed in 48 hours. Video shows uniformed snipers firing at protesters holding makeshift shields.
21 February: President Yanukovych signs compromise deal with opposition leaders.
22 February:
President Yanukovych disappears
Protesters take control of presidential administration buildings
Parliament votes to remove president from power with elections set for 25 May
Mr Yanukovych appears on TV to denounce "coup"
His arch-rival Yulia Tymoshenko is freed from jail
"Berkut is gone. I have signed order No. 144 of February 25, 2014, "On the Abolition of Berkut Special Public Security Police Units", Avakov wrote on Facebook early on Wednesday morning.
Viktor Yanukovych, president of Ukraine, flees Kiev as word spread that Viktor Yanukovych had fled Kiev, a large crowd began to descend on his residence in Mezhyhirya, some 12 miles outside the capital. They were shocked by what they found.
The Ukrainian president's mansion had long been rumored to be exceptionally luxurious (some said it cost around $100 million to build), but what was inside was outside many people's wildest imaginations: Yanukovych had a huge collection of luxury cars, his own private zoo, a golf course, and, for some reason, a galleon.
Importantly, as The Post's William Booth mentioned when he visited the residence, there were "CCTV cameras everywhere." Now, those camped out in the mansion have apparently decided to release the footage they took.
In a series of videos uploaded to YouTube under the name Виктор Хонка, security footage captures a large number of people removing goods from the home from Feb. 19 to the early hours of Feb. 22. While it is possible that the videos have been edited in some way, they do appear to actually show the scene: A man who appears to be Yanukovych himself is even seen a couple of times:
It also brings into question the argument Yanukovych made in a news conference in Rostov-on-Don, Russia, on Feb. 28, where the ousted president said he had not fled Ukraine, but only left after someone fired at his car, and whether he can actually see himself returning.
Protestors took full control of the residence after the security detail charged with protecting the compound fled
Property is around an hour's drive from Kiev and stands as a symbol of the folly of the country's ousted president
Visitors rubbed their eyes in disbelief as they entered the compound and saw the scale of opulence
140-hectare estate has a garage full of luxury sports cars below the house in Mezhyhirya, an hours drive from Kiev
Anti-government demonstrators stormed the house on the day President Viktor Yanukovich fled the capital
Inside the palace Yanukovych didn't want Ukraine to see
 People wander around President Viktor Yanukovych's Mezhyhirya estate, which was abandoned by security
A protester poses in a bathtub at the residence has the crowds take photos of some of the sprawling outhouses
A Steinway & Sons limited edition 'Imagine' grand piano in a reception room. Retailling at £77,200 in 2011 and taking a year to make, the piano is modelled after the white Steinway that John Lennon presented to Yoko Ono on her birthday in 1971 and which featured in Lennon's iconic video for the peace song of the same name. 'Imagine no possessions, Viktor Yaunkovych. It's easy if you try'…
One of many display cabinets full of different types of bullets
Parliament votes to ban Russian as the second official language, causing a wave of anger in Russian-speaking regions; the vote is later overturned
Parliament names speaker Olexander Turchynov as interim president
An arrest warrant is issued for Mr Yanukovych
Arseniy Yatsenyuk is nominated prime minister.
The elite Berkut police unit, blamed for deaths of protesters, is disbanded
Some light reading… The Road to Success by Viktor Yanukovych. One can only imagine what the sequel will be entitled.